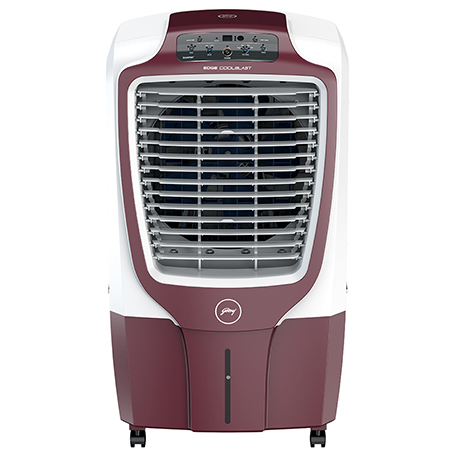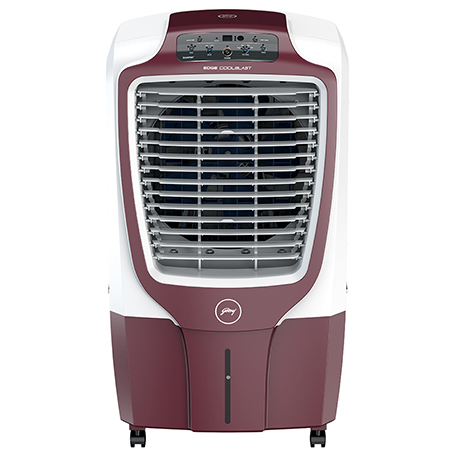 Godrej 80 Ltr Inverter Air Cooler - CL EDGE CB D 100 D RITK5 WNRDT
India's first Air Cooler with Inverter Technology found hitherto in Air Conditioners, the new Godrej Edge Cool Blast Air Cooler ensures greater cooling with upto 50% power saving* and its intelligent autocool technology adjusts cooling based on room temperature. Armed with quick chill technology, ice drip cooling technology, 18" large aerodynamic fan blades, turbo chill mode, 50mm thick honeycomb pads, 80 ltrs water tank and a lot more, it ensures powerful cooling even as its dual tone and robust design make it appealing and sturdy. *Disclaimer to be put on this page.
Key Features
18" AERODYNAMIC FAN BLADES

2 YEAR BLDC FAN MOTOR Warranty

AC WALA INVERTER TECHNOLOGY

ANTI-BACTERIAL TANK

AUTO DRAIN FUNCTION

AUTOCOOL TECHNOLOGY

AUTO-FILL FUNCTION

DRY RUN PROTECTION

FULLY COLLAPSIBLE LOUVRES

HUMIDITY CONTROL

ICE DRIP TECHNOLOGY

IONISER

LOW WATER ALARM

MEMORY BACKUP

QUICK CHILL TECHNOLOGY

REMOTE CONTROL

SILENT OPERATION

SLEEP MODE

TEMPERATURE DISPLAY

THERMAL OVERLOAD PROTECTION

THICK HONEYCOMB

TURBO MODE

UV-PROTECTED BODY

WIDE OPERATING VOLTAGE RANGE
Due to partial lockdown/restrictions in movement in certain areas, your delivery might get delayed. Our delivery teams try their best to ensure you receive your order at the earliest. We request you to co-operate with us until then. For your queries on order status please reach out to us on support@godrejappliances.com. Stay Safe.